Self Care Conference 2012
The Annual Self Care Conference was held in central London on 8th November 2012 with the theme "mission impossible".
The aim of the conference was to stimulate debate on whether it is an impossible task to change how the NHS and health professionals promote self care; and whether patients have sufficient confidence to make the change towards self care, whether it is to manage their everyday health problems like coughs and colds, or to care for long-term health conditions as we age.  Expert speakers shared their views on what needs to change to make self care happen.
To read the full conference report please click here
The presentations are available to download below and Norman Lamb MP's opening speech can be viewed on You Tube:
Self Care Conference 2011
The 12th Annual Self-Care Conference took place 8 November, RIBA, London, 9.30am – 4.30pm. It was hosted jointly by PAGB, the Royal College of General Practitioners (RCGP), Royal College of Nursing (RCN) and National Association for Patient Participation (NAPP).
Download the  delegate booklet for the agenda, speaker profiles and attendees.
Download the official report of the conference.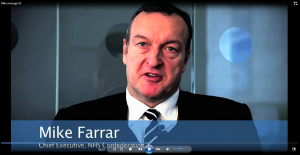 Mike Farrar CBE, chief executive, NHS Confederation spoke via video link. To watch the video please click here.
Vidcasts
The 12th Annual Self-Care Conference took place on 8th November 2011 on the theme of 'Behavioural change for better health, better care and better services'. This video clip shows the highlights from the event.

Paul Burstow MP, Minister for Care Services, opened the 12th Annual Self-Care Conference and used his speech to launch Self Care Week 2011.

Stephanie Varah, CEO of the National Association of Patient Participation (NAPP), launched a NAPP project to support practices in providing self-care support to patients.

The Royal College of General Practitioners (RCGP) launched the e-learning module 'Supporting self-care for minor ailments'.

Members of the Self Care Forum discuss the Forum's current work programme and next steps.
Speaker Presentations
Download speaker presentations from the day by clicking on the names below.