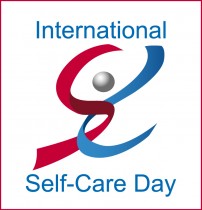 Today (24th July) is International Self Care Day.
The awareness day was established to explain to all stakeholders – public, healthcare professionals, the media and health officials, the importance of self care in healthcare and encourage the general public to practice self care.
Society benefits from the people who practice self care and who do not visit health professionals unnecessarily.   Self care helps people stay well and prevent chronic non-communicable diseases, thus relieving pressure on a country's healthcare system.
July 24th (24/7) is the chosen day for International Self-Care Day as it can be used as a reminder that the benefits of self-care are experienced 24 hours a day, 7 days a week.
A toolkit for International Self Care Day can be found on the WSMI website

Coverage in the UK to mark the day included a piece in the Guardian by Self Care Forum Board member, Dr Simon Fradd. Headlined, 'How telehealth can make savings and improve patient care', the article explains why it is time to support patients in their role as experts in their health.
Other coverage includes:
Business Day, South Africa: http://www.bdlive.co.za/life/health/2013/07/23/self-care-is-a-handy-weapon-in-the-fight-against-killer-diseases
Isle of Man: http://www.isleofman.com/News/details/56845/department-of-health-to-mark-international-self-care-day and http://www.iomtoday.co.im/news/health/take-better-care-of-yourself-1-5878095