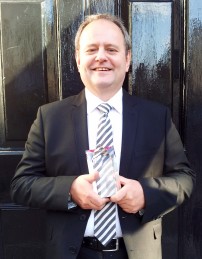 Dr Pete Smith, GP and Self Care Forum Board Member won the NICE Shared Learning Award 2014.  His entry, which came first out of 70 examples, was based on a practice-wide programme which used NICE guidance to reduce antibiotic prescribing for coughs and colds in his surgery, Churchill Medical Practice in Kingston.
The Self Care Forum's fact sheets on coughs and the common cold were key to the project which aimed to educate patients on treating these self-limiting conditions at home, and without the use of antibiotics.
Dr Smith was one of three finalists who presented studies at the NICE Annual Conference on 14 May and delegates at the conference choose his as the overall winner.
His antibiotics programme was first presented at PAGB's Annual Self Care Conference in 2012, at the start of its implementation, with a follow-up presentation at the 2013 Self Care Conference which detailed the results.  He told delegates at the conference, because of his programme "804 people every year will avoid unnecessary antibiotics and 50 out of every 1000 on the practice list will benefit."  He urged his primary care colleagues to start their own self care schemes saying "with the Self Care Forum's fact sheets, the difficult bit has been done for you – and it's been proven to work."
Further information can be found in Dr Smith's 2013 presentation and on the NICE website