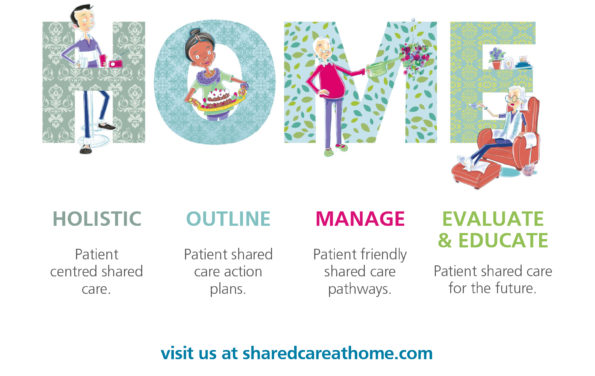 Supported self-management, i.e. shared care, is one of the six evidence-based components of personalised care to which the NHS has committed (NHS England 2019). Shared care is a key driver for the NHS and is part of the NHS long term plan, encouraging people to take a more active role in their health and well-being, particularly in chronic disease management​.
Wound care is no exception and we can engage with individuals developing partnerships, sharing the care of their wounds and most importantly empowering patients with the tools and confidence to optimise their ability to heal.​
At HARTMANN, we recognise the importance of supporting the health service in providing effective, evidenced based wound management solutions for healthcare professionals. ​​
To develop a positive, shared care partnership in practice, HARTMANN UKI has launched a new initiative – HOME – aimed at helping healthcare professionals introduce and manage shared care solutions to patients at home.
HOME (Holistic, Outline, Manage, Evaluate/Educate) is a complete package aimed at supporting the NHS achieve its long-term plan of encouraging patients to take a more active role in their health and well-being. HOME provides all the support, training and tools needed to create true partnerships with patients on wound care.
Dawn Stevens, Clinical Development Manager at HARTMANN UKI explains, "Shared care is a key driver for the NHS. Encouraging and involving people to self-manage their wound care is increasingly crucial. In order for this to happen, patients need the right tools, information and support to optimise a wounds ability to heal. We therefore developed the concept of HOME to support healthcare professionals and ease the transition into greater shared care.
In a post-Covid world, it is thought that a positive, shared care partnership, will be pivotal to a successful healthcare service moving forward. Not only does it put greater emphasis on the individuals' participation and therefore the potential success of wound care management, but it could also free up valuable nursing time. Our role is to help facilitate this and support health care professionals in building confidence and ability amongst patients to take this holistic approach."
Our HOME package helps support the identification, assessment and implementation of wound care partnerships in practice. It includes patient postcards, patient friendly care plans, journals, pathways and a dedicated website to share information.
For further information and updates, please visit sharedcareathome.com.