Introduction
Welcome to the 12th edition of our Self Care Forum newsletter.
This edition highlights the theme for Self Care Week 2016 which is health literacy. It is vitally important that more is done to help people understand how to look after their health which is why the strapline is "Understanding Self Care for Life." We were heartened by the 160 organisations that participated last year but hope to see even more localities take on the responsibility of improving health literacy and helping people understand how to better take care of their physical health and mental wellbeing during Self Care Week and beyond.
Also in this edition is the call for a National Self Care Strategy led by a Government minister; pointing to the fragmentation present in the System, a group of cross-party peers and MPs say a National Self Care Strategy will provide much needed coordination and cohesiveness across the entire NHS network to increase levels of self care across England. This is one of fifteen recommendations made by the parliamentarians in the report.
If colleagues would like to receive future editions of the newsletter please email the Self Care Forum.
Read more about the Self Care Forum here.
Self Care Week 2016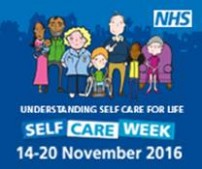 Health literacy is the focus for this year's Self Care Week campaign and the chosen strapline is "Understanding Self Care for Life".
For those wishing to plan early there are a series of generic logos available as well as the excellent case studies to help inspire you.
Please email if you have any questions about the Week.
Parliamentarians Call for a National Self Care Strategy
The All Party Parliamentary Group (APPG) on Primary Care and Public Health is calling for a National Self Care Strategy led by a Government Minister and National Director.
Speaking in Parliament at the launch event of its inquiry report into NHS England's Five Year Forward View, APPG co-chair Bob Blackman MP said "whilst this APPG strongly supports the ethos of the Five Year Forward View with its emphasis on engagement and prevention, our inquiry highlighted the slow pace of implementing these goals.
"The lack of leadership and coordination at a national and local level seems to be a factor which is why we are recommending a National Self Care Strategy."
The co-chair continued by saying such a "strategy will provide cohesiveness across the entire NHS network including NHS England, Public Health England, Health Education England, local NHS organisations, as well as Government Departments."
He added "it is important that we start to see change that improves people's health and moves us from the current "care and repair" model as expressed by NHS England's CE, Simon Stevens towards the more engaging "wellness" health service that will lead to a more sustainable NHS."
The development of a National Self Care Strategy is one of fifteen recommendations made by the cross-party group of MPs and peers in this, their latest inquiry report.  The report is the outcome of a nine month inquiry which sought to investigate the aspects of information, signposting and behaviour change in the Five Year Forward View, NHS England's vision for the future of the NHS published in October 2014.  The inquiry included a focus on the role of self care in reducing pressure on the NHS and empowering people to make the right decisions for their health.
Highlighted in the report is research from 2014 which found there were 3.7m visits to A&E for self-treatable conditions, pointing to poor use of scarce NHS resources.  Signposting people to appropriate parts of the NHS was also said to be a problem, with NHS 111 routinely directing people to A&E whilst less than 1% of callers to the NHS helpline are advised to speak to a pharmacist.
Such inconsistency is disempowering and the APPG recommends information on the normal duration and red flags of self-treatable conditions, taken from the Self Care Forum's fact sheets, is embedded in NHS pathways such as NHS 111 algorithms, the NHS Choices website and in NHS clinical systems such as EMIS which is used in general practice.
If implemented, this recommendation will help ensure people with self treatable conditions are routinely signposted to self care and help address inappropriate use of health services and lead to a fall in demand for health services.
In addition to launching the inquiry report, the APPG has also laid an accompanying Early Day Motion (EDM) (#1243) in Parliament which highlights the rise in the number of people using "scarce and expensive" A&E and GP resources for self-treatable conditions.
The Self Care Forum invites you to contact your MP with a request to sign the EDM.  If you would like more information on the work of the APPG or how to approach your MP email.
The Self Care Forum is Evolving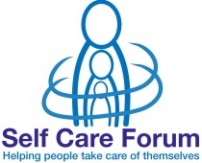 Five years after it was established, the Self Care Forum is changing its status to an independent not-for-profit charitable organisation.  It isn't however, changing its focus.
In 2011, the Self Care Forum was established by individuals passionate about increasing people's ability to look after their own health.
It is a coalition of nurses, patient groups, doctors, pharmacists, academics, the Department of Health, NHS England and Public Health England, and the consumer healthcare industry.  It is an organisation unlike any other.
Whilst in the last few years there has been a welcome rise in organisations with a focus on self care, there has been an increased concentration on long term conditions. Supporting people to self-manage their long term conditions is vitally important, since it builds resilience, a positive mind-set and help people to look after their general health and their own self-treatable conditions.
The Self Care Forum however, recognises the importance of promoting self care across the entire self care continuum including prevention, lifestyle and self-treatable conditions as well as long term conditions. 
The new Self Care Forum will continue to develop and support activities across the entire continuum.
We will be a membership organisation with a Board, Trustees and a Membership Committee to encourage active involvement at a variety of levels. We currently have two co-chairs at the helm, Dr Pete Smith, GP at award winning Churchill Surgery in Kingston and Dr Selwyn Hodge, a retired Deputy Director of Education, public health expert and health literacy campaigner.
In June we plan to hold the inaugural meeting of the new organisation and details will be highlighted in a future edition of the newsletter.
The new Board and our membership will decide the future work but for 2016 this will include Self Care Week in November and a Self Care Conference in September.
Leaflets ask people to "Make the right call"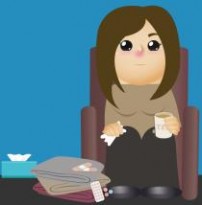 Plaudits go out to the North West Ambulance Service for devising a series of eye-catching leaflets asking the public to "make the right call" when it comes to accessing health services in the North West area.
The leaflets highlight when to self care at home, visit the local pharmacy, call NHS 111, see the GP and when people should head to A&E.
If you have any queries about the work of the Self Care Forum or anything within this newsletter please email Libby Whittaker.
We would be pleased if you could circulate this newsletter to colleagues and contact Libby Whittaker if you would like to add someone to our mailing list to receive future newsletters.