Introduction
Welcome to the 7th edition of our Self Care Forum newsletter.
In this edition you will find our analysis of Self Care Week which has seen a rise in activity in comparison to previous year's campaigns. It is time to start the ball rolling for this year and we would like to invite you to submit ideas for our 2015 theme. If you have any thoughts that you would like to share that will fit well with prevention, minor ailments and long term conditions then please email Libby Whittaker.
This edition also highlights news of two SCF Board members who have received honours in the New Year's Honour's List, Dr Sir Sam Everington and Prof Nigel Sparrow OBE, both are GPs and were honoured for services to primary care.
We very much hope you find this newsletter helpful and if you would like to sign up your colleagues to receive future editions please email Libby Whittaker.
Read more about the Self Care Forum here.
Self Care Week 2014 Review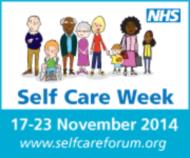 We were delighted that so many organisations got behind Self Care Week in 2014 to raise awareness about the need to improve people's ability to look after their own health, and their family's health.
Analysis of the campaign, which had the theme "Self Care for Life – be healthy this winter", found there had been a further increase in the number of NHS organisations such as surgeries, clinical commissioning groups and NHS Trusts as well as local authorities taking part in the campaign by organising events, running self care programmes, putting up posters, giving out leaflets and further activities to help support their patients and their local population to take better care of their health during the winter months and to understand where to go for this help.
The winter theme chimed with local, regional and national campaigns such as PAGB and Pharmacy Voice's "Treat Yourself Better", NHS England's "Under the Weather" and Public Health England's "Antibiotic's guardian" campaign.
"Keep calm and ask your pharmacist" was a regional campaign run by NHS Newcastle North and East CCG which urged local residents with common winter ailments and illnesses who don't need to see a doctor or nurse to pop down to their local pharmacy to seek advice from the "expert on their doorstep."
Can you help with Self Care Week 2015?
The Self Care Forum invites you to suggest a theme for the 2015 national campaign. It should be broad enough to encapsulate activities for prevention, minor ailments, long term conditions, as well as mental wellbeing. The theme in the past has taken the prefix "Self Care for Life" with a simple and catchy strapline to reflect the direction of the campaign. Past examples include "Self Care for Life – growing older healthily," Self Care for Life – take control," and "Self Care for Life – be healthy this winter." Do please get in touch if you would like to share your suggestions. Meanwhile, thank you to those organisations that participated in Self Care Week 2014, and the review is available here.
The SCF Manifesto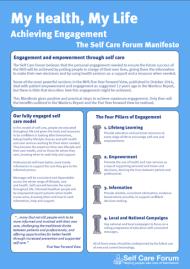 Since 2015 is a general election year, the Self Care Forum has produced a Manifesto, which is entitled "My Health, My Life" and will seek all-party agreement on the need to improve personal engagement.
The Self Care Forum believes that maximum engagement can be achieved by putting people in charge of their own lives, giving them the information to make their own decisions and by using the health service as a support and resource when needed.  The Manifesto's focus is on 'four pillars of self care': Lifelong learning, empowerment, information and local and national campaigns.
Dr Pete Smith OBE, a GP, winner of the 2014 NICE Shared Learning Award and Self Care Forum Board member explains: "With demand for health services increasing at an alarming rate, increasing levels of public engagement in relation to their health is more important than ever.  Our Manifesto includes new recommendations for radical changes in our approach to promote engagement and calls for existing methods to be expanded, equipping them with the information and knowledge to self care throughout their lives.  It pinpoints what needs to happen throughout life for people to feel confident in taking control of their own health, looking after themselves, making healthy lifestyle choices and knowing when they really do need to seek NHS help and support.
"To ensure the sustainability of the NHS, empower patients and embrace the opportunities outlined in the 'NHS Five Year Forward View', we urge health policy leaders to act on the recommendations made in the Manifesto."
Members of the Self Care Forum Board will discuss the Manifesto with the Parliamentary Under-Secretary of State for Health, Earl Howe in the next few months.
Self Care Forum Board News
Congratulations to two Board members that were honoured in the New Year's Honour's List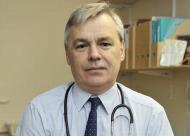 Dr Sir Sam Everington, GP at Bromley-By-Bow Health Centre was given a knighthood, whilst Prof Nigel Sparrow, who is also a GP and GP Advisor at the Care Quality Commission was given an OBE.
Both received their honours for services to primary care.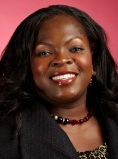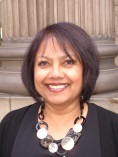 The Self Care Forum welcomes new member of the Board, Dr Diane Ashiru-Oredope who is the Pharmacist Lead for Antimicrobial Resistance at Public Health England.
We are also delighted to announce that Ms Gopa Mitra MBE who is Trustee of Men's Health Forum and member of the RCGP's Patients and Carers Partnership Group has been appointed chair of the Self Care Forum Board.
New Factsheet for UTI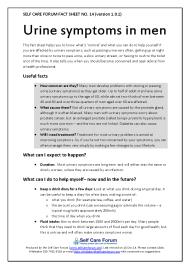 We have recently added a fourteenth fact sheet to our website. The latest is aimed at men who experience urinary problems.
The Self Care Forum fact sheets are our most popular resource although an abundance of other resources are available on the website, including:
Top Tips were written by Professor Mike Pringle and provide advice on how surgeries can set up a self care practice; the How to Guide will help you plan a self care aware approach to demand management; the patient portal contains self care text to cut and paste onto your own website; RCGP online course will help consultations become more self care aware; best practice provides templates for self care in practice.
News
Collaborative care and Support Planning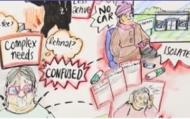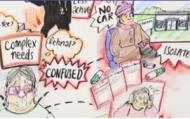 Self Care Forum Board Member and Royal College of General Practitioners (RCGP) President, Professor Mike Pringle narrates this three minute video to support health professionals during their consultations with people with multiple and complex illnesses.
The video attempts to help health professionals with care planning, a holistic, long-term approach to delivering patient care that aims to help people take more control over their  own health – with the support of their GP practice – and stay well.
The BMA criticises NHS 111
The British Medical Association has criticised NHS 111 which it blames for the increase in service-use at Accident & Emergency Departments and in GP surgeries since it started in March 2013.
It's analysis of the 111 data calculated that referrals to A&E are up by 198% while advice to stay at home and self care is down by 15%.
GPs reported to the BMA that patients have been referred to them with colds, sore thumbs or other conditions that could be treated safely by sensible advice over the phone on how to self care such as picking up medication from a local pharmacist.
Dr Charlotte Jones from the BMA said: "There is little doubt that the NHS cannot afford to have unnecessary workload being created given the unprecedented pressure on our health service."
BMA chair of council Dr Mark Porter is calling for an urgent analysis of NHS 111 and says there should be a review of the directions given to patients on self care advice, as well as the use of medically trained staff in 111 call centres. Read more here.
If you have any queries about the work of the Self Care Forum or anything within this newsletter please email Libby Whittaker.
We would be pleased if you could circulate this newsletter to colleagues and contact Libby Whittaker if you would like to add someone to our mailing list to receive future newsletters.