Introduction
Welcome to the 13th edition of the Self Care Forum newsletter.
This edition highlights the worthy winners of the 2015 Self Care Week awards. In 2015 Self Care Week was the most successful to date with a 40 per cent increase in the number of organisations participating in the awareness week. We hope this success will be topped in 2016.
Judging the awards were Self Care Forum co-chairs, Dr Pete Smith and Dr Selwyn Hodge, who found it difficult to choose amongst the excellent submissions.  They were particularly impressed by the strong community partnerships and the joint working involved in localities to help reach as much of the population as possible during Self Care Week. In the end, there were two clear winners and a high commendation. Awards will be presented at the 18th Annual Self Care Conference in London on 26th September, and we hope you will join us for the event to both congratulate the worthy winners and question them on their strategies for Self Care Week.
We will be inviting 2016 Self Care Week participants to make submissions for the next award and hope you will apply for this prestigious award which also comes with a £500 self care bursary.
Also included in this edition are details of the forthcoming Annual Self Care Conference, the latest report from the BMA's GPC and further details on Self Care Week.
Read more about the Self Care Forum here.
Winners of the First Self Care Week Awards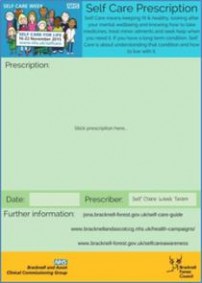 The Self Care Forum is delighted to announce Bradford and Craven and Bracknell Forest as joint winners of the first Self Care Week award for their excellent work during Self Care Week 2015.
Self Care Forum co-chairs, Drs Pete Smith and Selwyn Hodge judged the entries and declared the two submissions to be particularly outstanding for their innovative use of promotion, self care material, (including Bracknell Forest's self care prescription), local partnership working, and well-planned activities.
The judges were also impressive by Bracknell's extension of Self Care Week with their Year of Self Care.
In addition, a special, Highly Commended award was given to Dyneley House Surgery for its strong whole-practice approach and its focus on teen health.
Congratulations are also extended to the Isle of Man's Department of Health and Social Care and Pennine MSK Partnership Ltd who were also listed in the final five entries.
The awards will be presented at the Annual Self Care Conference on 26 September. For more information contact the Self Care Forum.
Self Care Week 2016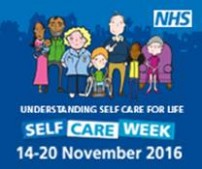 It is time to start planning for Self Care Week 2016.  The chosen strapline this year is "Understanding Self Care for Life" which has a health literacy focus.
It is crucial that we support people to increase their understanding of how to look after their health.
According to a cross-party group of politicians, the All Party Parliamentary Group (APPG) on Primary Care and Public Health, poor health literacy is disempowering people and putting unnecessary pressure on the health system.
In their latest report, to help improve people's understanding of how to look after their health, the APPG recommends widespread implementation of Self Care Week and other national public health campaigns such as Stay Well this Winter.
The Self Care Forum is delighted that Self Care Week is also highlighted in the BMA's General Practitioner's Committee's report "Responsive, Safe and Sustainable: An urgent prescription for general practice," which was published in April 2016.
To help you plan your strategy for Self Care Week 2016 we would recommend the Self Care Week best practice report based on local campaigns by award winners Bracknell Forest and Bradford and Craven; also available with key messages and campaign ideas is the communications document and to help publicise your events why not use the SCW logos. Posters, fact sheets and other material are also available on the Self Care Forum website.
We hope you will agree that increasing people's health literacy is an important focus and as health professionals we can help by using Self Care Week 2016 as a tool to raise awareness of the importance of understanding how to Self Care for Life.
The BMA Urges General Practice to "do" Self Care Week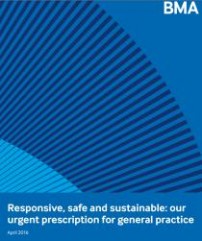 The latest publication from the BMA's General Practitioners Committee's (GPC) advises GP surgeries to participate in Self Care Week.
Published in April 2016, "Responsive, safe and sustainable: An urgent prescription for general practice" outlines a number of problems facing general practice at the moment and highlights possible solutions.
The GPC recognises the need for general practice to be proactive in empowering people in their own health care and recommends surgeries participate in Self Care Week in a bid to give patients greater confidence to self care and to help them make the right decisions when accessing NHS services.
The Self Care Forum's fact sheets are also highlighted by the publication as a resource for people consulting the surgery for symptoms of common self treatable conditions.
Need inspiration on how to deliver self care?
Annual Self Care Conference – 26 September 2016, London
This year's Annual Self Care Conference, entitled Understanding Self Care for Life, aims to debate, inspire and provide practical solutions on how to empower people and give them a better understanding of how to self care for a healthier life.
This essential programme is tailored towards health providers and commissioners and those of us tasked with supporting people to look after their own health.
It aims to showcase self care systems and strategies that can be emulated in various health settings to help you improve health provision for your patients and population and to be more proactive in communicating targeted health knowledge. As well as helpful presentations and people's first-hand experiences, there will be a chance to share knowledge with like-minded colleagues aiming to improve people's health literacy.
If you would like to attend this highly interactive conference here is a booking form on how to register and pay the small fee of £45.  Email the Self Care Forum if you have any queries about the conference.
Join us on Twitter: follow us @SelfCareForum and mention us in anything you are doing around self care.  Also, feel free to spread the word by using #selfcareweek and #selfcareforlife if appropriate to do so.
If you have any queries about the work of the Self Care Forum or anything within this newsletter please email Libby Whittaker.
We would be pleased if you could circulate this newsletter to colleagues and contact Libby Whittaker if you would like to add someone to our mailing list to receive future newsletters.