On the Resources pages you will find resources that can be used to help support people to self care. Please use the drop down menu above to access self care research, case studies and leaflets.
Public Health England Resources
Help Us Help You – Stay Well this Winter 2019 campaign material
(You may be asked to register before accessing the material from the PHE website, this is a quick and easy process).
Self care poster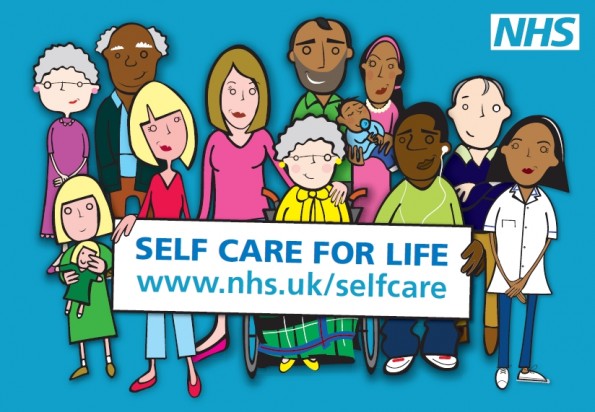 Click on the links below to download the PDFs:

Medicine Cabinet Poster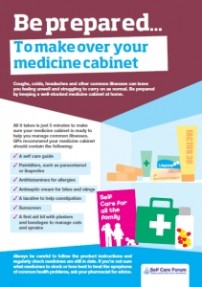 Start the New Year by asking your patients to give their medicine cabinets a makeover.
Having a well-stocked medicine cabinet at home means there's no need for patients to delay in starting to relieve the symptoms of minor ailments, especially out-of-hours.
You can download and print-off the poster below which explains to patients what a well-stocked medicine cabinet should contain:

Practice Nurse articles
A number of articles about self care have appeared in Practice Nurse magazine.  These are available to download below:


A new evidence based analysis tool to help make the local business case for self care education from the Department of Health and Expert Patients Programme CIC
There have been many published articles that demonstrate that the use of self care training for people with long-term health conditions is effective both in terms of saving money and increasing quality of life. However, these savings are normally expressed in terms of the trial on which the evidence has been found.
The Department of Health, in collaboration with Expert Patients Programme CIC, have developed a new tool to help make the local business case for self care education. This model allows the published findings to be calculated for given GP practices, PCTs, SHAs or GP commissioning pathfinders with their own characteristics in terms of current service levels, prevalence of the long term condition and costs. It does not give a guarantee savings will be achieved, rather an indication of the costs and benefits that research suggests are likely. The tool, based on an excel workbook, contains default costs and benefits of self care courses based on public research. It also allows data based on local knowledge and circumstances to be entered to check where the breakeven point is. It can suggest the most cost effective way of providing self care education based on local population characteristics and total budget available.
http://www.selfmanagement.co.uk/resource-library


RCGP online course: supporting self-care for minor ailments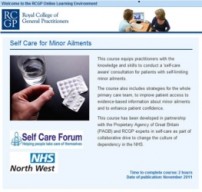 Every year in the UK, over 50 million consultations are recorded for minor ailments alone.  A possibly surprising fact is that over 70% of these consultations resulted in a prescription for a medicine that was available over-the-counter.Â
These were just two of the facts presented at PAGB's 12th Annual Self-Care Conference in November 2011, which coincided with the launch of a new Royal College of General Practitioners (RCGP) e-learning course on supporting self-care for minor ailments.
The reasons why patients consult with minor ailments are varied, and authors Dr Fiona Baskett and Dr Clare Etherington are quick to emphasise that, in the primary care setting, self-care equates to shared care, rather than abrogation of care by the practitioner.  'One of the main objectives of designing this course', explained Dr Baskett, was to equip healthcare professionals with the necessary skills to build self-care awareness into every consultation. We know, from research, that supporting self-care improves patient confidence and autonomy whilst reducing unnecessary consultations and anxiety.'
Visit: www.elearning.rcgp.org.uk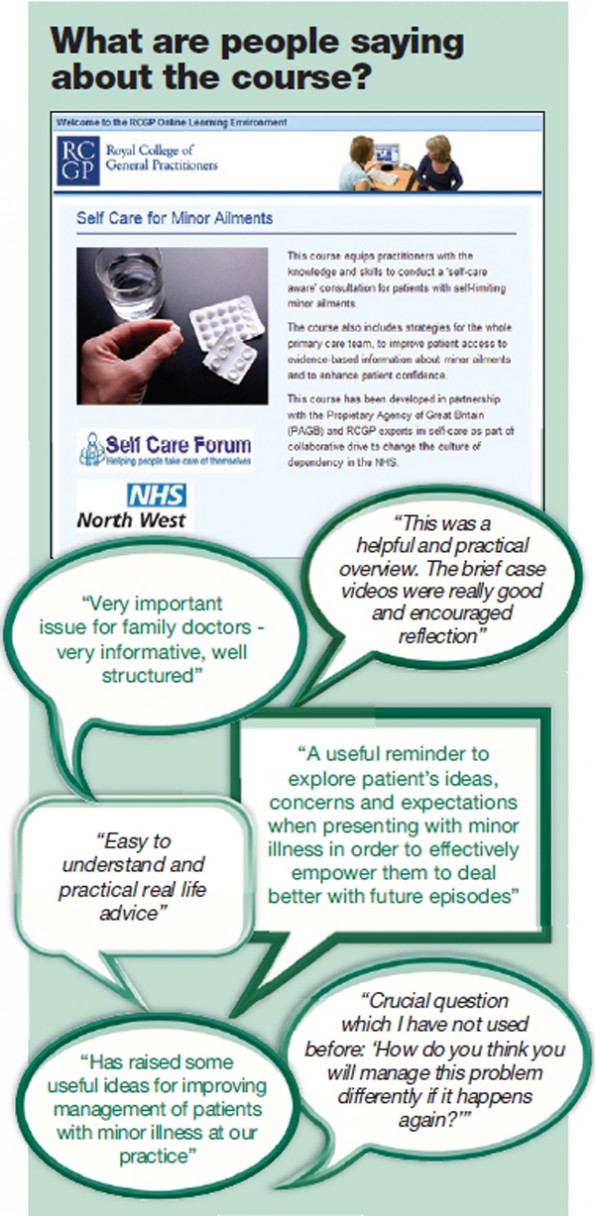 Top Tips for Practices in Supporting Self-Care
Promoting self-care is a long-term project for a practice. We suggest each practice takes one or two top tips to concentrate on first. Read the full document here.

Why Better Self Care is Good for People
Being able to self-care directly benefits individuals, their families and society. Read more about the advantages of self-care here

Self Care Campaign White Paper
Prior to the establishment of the Self Care Forum,  the Self Care Campaign was launched in March 2010 with the publication of a white paper, 'Self care: An ethical imperative'.
The Self Care Campaign group was made up of professionals from key organisations across primary care (many of the original group are now involved in the Self Care Forum).
To download the white paper please click here

Self Care Forum Fact Sheet
Read some essential facts about the Self Care Forum here.

Self Care Forum Key Messages
Our key messages have been developed by the Self Care Forum. It is important that what we say and how we say it is always expressed clearly and consistently. And the hope is that these key messages will build consistency in self-care messaging. Read our key messages here.

Other Resources
Improving patient access
Improving patient access to primary care will always be a challenge to those working in General Practice, be that meeting NHS targets, patient expectations or just trying to give a good honest service.Â
Productive Primary Care Ltd (PPC) is an NHS focused organisation that provides experience, training and expertise to organisations in order to improve practice efficiency, patient experience and clinical outcomes.
PPC Ltd has developed the Primary Care Productivity Tool to help practices identify areas for improvement in their appointment systems. Having a clear understanding of the activity, backlog, capacity and demand in any service is essential to deliver modern, effective and patient focussed services. Accurate data on these four key measures is essential to understanding how any service is performing and to identify where improvement is needed. The mismatch between variation in demand and capacity is one of the principle reasons why queues develop and services are falsely designed around activity rather than need.
Read more about PPC Ltd and the Productivity Tool, "Doctor First" on the Productive Primary Care website

Pain Toolkit Calendar 2012
The Pain Toolkit calendar 2012 is packed full of tools and simple reminders to support day to day pain management. Download the calendar here.

New online self-management support resource centre
The Health Foundation has launched a new online self management support resource centre. This resource centre provides information and practical tools that can be adopted and adapted locally to enable services and health professionals to develop their own self-management support programmes.

What is self-management?
Here is a short animation, a simple guide to self-management.

The video has been produced in collaboration with the Expert Patients Programme with input from the Health Foundation. It is a visual aid to help clinicians understand the benefits of self-management and how services can be designed around patient needs. It is also a for patients to understand better the concept of self-management as promoted within the NHS.
Are you a Champion for Self Care? Do you want to join the Self Care Movement?
Email: selfcare@selfcareforum.org