Go to the Best Practice page for more self care case studies including, Coronavirus innovation, 'Home care is best' campaign, Bromley by Bow Centre, Self Care Guide for Patient Participation Groups and more…

Self Care Week Best Practice
Self Care Week is in November. It is a fixed event on campaign calendars to help raise awareness about how people can better take care of their own physical health and mental wellbeing; to know where and when to go for health advice; and to ultimately engender cultural and behavioural change. Below are several examples of Self Care Week initiatives, often from organisations given Self Care Week awards for their achievements, so you can learn from the very best. These case studies may also be helpful outside of Self Care Week:
Successfully Delivering Self Care Week: Case Studies and Practical Advice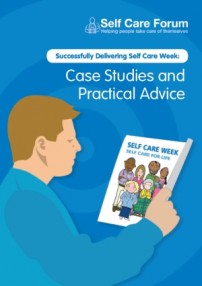 Self Care Week is the national annual campaign to raise awareness of how people can take care of their own health whether it is to prevent disease or illness, understand how to look after minor ailments or how to manage long term conditions.
As organisers of the campaign, the Self Care Forum provides support and resources to patient-facing organisations to use the week as a focus to promote self care and target messages to their patients and population.
Participation in Self Care Week has increased each year with varying degrees of involvement from displaying posters in reception areas, holding self care seminars and organising full-scale self care events. To help provide inspiration for organisations planning to participate in future Self Care Weeks, below is a report which showcases two exemplar Self Care Week campaigns from 2014.
These models of excellence can be emulated in every location in the UK and a guide to help with this is also available.
Bracknell's award winning 2015 Self Care Week initiative
Guide to Organising Self Care Week
Toolkit of Self Care Week material from Bracknell and Yorkshire:
Bracknell
Yorkshire
Additional material for Self Care Week

If you would like to include your self care week initiative on our best practice page do get in touch.