Food Supplements can help brain development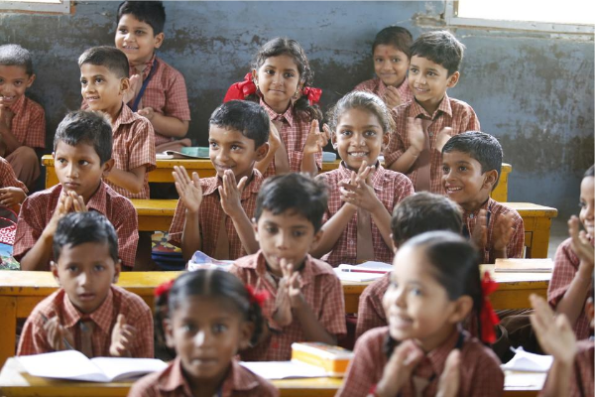 Research published in The BMJ recently found that giving nutritional supplements to young children in low income countries for around 6 months could improve their brain health.
The results could have important implications for children's education and national development in low income countries, say the researchers.
At least 250 million children worldwide younger than 5 fail to reach their cognitive developmental potential. While under-nutrition is not the only factor, it is associated with long term brain impairment.
Researchers concluded that nutritional supplementation for 23 weeks "could improve cognitive function in vulnerable young children living in low income countries, with additional benefits for brain health and nutritional status."
They point out that these findings could also be very relevant for children living in affluent countries, since many children consume an unhealthy diet, and for other vulnerable groups such as older adults with inadequate nutrition and vulnerability to cognitive impairment
BMJ Research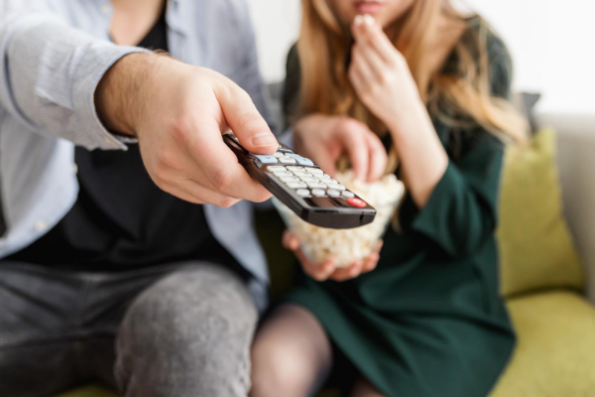 Limit TV Watching to 2 hours says researchers
According to a study by scientists at Glasgow University restricting TV watching time for adults could increase longevity. Analysis of information from 500,000 Britons aged from 37 to 73 over seven years showed that 6 per cent of all-deaths and 8 per cent of cardiovascular related deaths could be associated with too much TV watching. The study findings pointed to too much time spent watching TV resulting in less exercise and poor diet.
Dr Hamish Foster from the University of Glasgow's Institute of Health and Wellbeing, who led the study, said: "This study adds more weight to the evidence that more time spent watching TV is likely to be detrimental to health.
"Our study suggests limiting TV time could delay or prevent a lot of adverse health. However, there is still more work to be done before we can make firm TV time recommendations. TV time is just one of a number of potentially sedentary behaviours, which also includes screen time watching videos on your phone, which may all contribute to adverse health outcomes. Also, there are many other contributory factors, such as unhealthy snacking and lower socioeconomic status, that are also strongly associated with both TV time and poor health outcomes. Further research is needed to understand all these factors and inform future advice and guidelines."
Study: 'Understanding how much TV is too much: A non-linear analysis of the association between television viewing time and adverse health outcomes' is published in Mayo Clinic Proceedings. (July 2020)
Dr. Me. "significantly improves" schoolchildren's self care knowledge
A study of more than 200 schoolchildren showed that Dr. Me. – a self care presentation designed by GP Dr Chee Yeen to empower schoolchildren – was shown to significantly improve their understanding of how to self care minor conditions.
The children attended workshops covering vomiting and diarrhoea; sore throat and fever; and minor head injuries. In the study, six case scenarios were asked at the beginning and end of the session, and children decided whether to stay home, visit the GP or attend A&E.
Feedback questionnaires gauged confidence in self care and interest in medical careers. In the diarrhoea and vomiting, and sore throat and fever case scenarios the children were significantly better able to determine whether they should stay at home, visit the GP or go to A&E.
There were significant improvement in correct answers overall, in keeping with increased confidence and findings show self care education can help in managing self-limiting conditions and can be the first step towards reducing GP and A&E attendances in future.
The study also highlights the possibility of children passing on their learnings to family members. It makes the point that with increasing demand on NHS services, empowering children to better look after their own health provides them with life-long learning and can help with future sustainability of the NHS.
Further details about the study can be accessed here. (July 2020)
We're living longer, but in ill health
According to research in Population Studies – A journal of demography, we are living longer but not necessarily in good health.
The study which looked at generational health, suggests that younger generations can no longer expect to lead healthier lives than their ancestors. People in England in their forties and fifties are, on average, in significantly worse physical shape than those now in their sixties and seventies were at the same age.
Study co-author, George Ploubidis, professor of population health and statistics at University College London said: "Earlier in the 20th century a rise in life expectancy went hand in hand with an increase in healthy lifespan — younger generations were living longer, healthier lives. It appears that, for those generations born between 1945 and 1980, this trend has stalled. Those born later are expected to live longer on average, but with more years of ill health."
Ultimately, this worrying health trend points to a greater demand for public healthcare at younger ages.
Read more about the research here. (July 2020)
Reducing antibiotic prescribing for self-limiting respiratory tract infections in primary care – A pilot study by Dr Pete Smith et al
Churchill Medical Centre, a primary care centre in Surrey, UK, implemented a practice-wide programme aimed at patients and clinicians to reduce ineffective antibiotic prescriptions for common respiratory tract infections.
Click here to download the study
NHS quality holding up but the data points to urgent and preventive care as causes for concern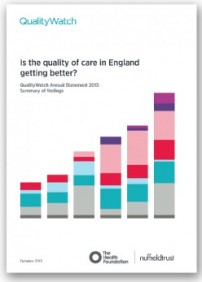 Many quality indicators linked to NHS services are holding up but data also point to urgent and preventive care as causes for concern
The quality of care delivered to NHS patients and service users in England has improved in many key areas over the past decade. But some issues should cause concern including urgent care and the prevention of emergency admissions, and the continuing challenges of health inequalities whereby people in more deprived areas of the country continue to fare worse on a whole range of indicators.
These are among the key findings of the first annual assessment of the quality of care in England from a new research programme, QualityWatch, launched on 8th October 2013. This is a five-year collaboration between independent health research organisation the Nuffield Trust and healthcare improvement charity the Health Foundation. The project seeks to assess whether the quality of government funded health and social care services is improving or worsening over the next five years. This period will be characterised by significant challenges on care services: spending constraints, organisational change and growing care needs in an ageing society. But there will also be significant opportunities to improve care from innovation in part driven by necessity.
The assessment draws on analysis of nearly 150 quality indicators spanning primary care and community services, hospital care, mental health services and social care. These have been evaluated in relation to six domains of care quality: access; safety; effectiveness; people centred care; capacity and equity. The findings will be regularly updated as part of the research programme's aim to provide on-going authoritative and independent scrutiny on the quality of health and social care.
The assessment also incorporates findings from two in-depth 'Focus On' reports. The first investigates trends between 2001 and 2013 in emergency admissions for people with 'ambulatory care sensitive' (ACS) conditions – these are clinical conditions for which an emergency admission could be prevented by good quality primary and outpatient care. The second study examines trends in treatment for people with hip fractures between 2001 and 2011. Together they suggest that the quality of urgent and preventive care require immediate attention.
Further information can be found on the QualityWatch website
YouGov Health Products 2013 report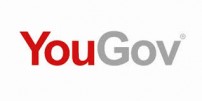 YouGov SixthSense has released a new report on the healthcare products market which analyses the current market landscape, and sets out what the challenges and opportunities are for health product manufacturers.
The report found that two-thirds (67%) of UK consumers want stronger regulations governing the health claims made by non-prescription medicines. Worryingly, only a quarter (25%) of people trust manufacturers not to mislead consumers.
Despite a majority wanting more and/or tighter regulation, however, the UK health products market is still robust, with 80% of UK consumers having painkillers in their home at any one time.
Furthermore, more than a third (36%) of respondents have vitamins at home. YouGov SixthSense estimates that the total market value was £2.39bn in 2012, up modestly on 2011.
Additionally, it reveals that the vast majority of UK consumers want to live healthier lifestyles and provides 'deep dive' analyses into different niche demographics to help identify potential opportunities for manufacturers.
Further details can be found in the press release and executive summary.
Making the Case for Information: The evidence for investing in high quality health information for patients and the public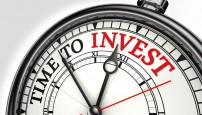 In 2013 the Patient Information Forum (PiF) commissioned research to identify the benefits of investing in health information. The project, which looked at over 300 studies, found that there are good business reasons to justify the investment of more time, money and training in health information provision and support. These include positive impacts on service use and costs, substantial capacity savings, and significant returns on investment by increasing shared decision-making, self-care and the self-management of long-term conditions.
There are powerful legal, moral, ethical and financial incentives for providing quality information to enable people to better manage their health and wellbeing and make fully informed decisions about their treatment and care. Health information specialists have a vital role to play in championing high quality health information and in campaigning for significant and consistent investment in the provision of high quality services and resources.
There are good business reasons to justify health commissioners and provider bodies investing more money in consumer health information and support.
Better health information can have significant impacts on service use and reduce costs – This includes reducing the numbers electing for major surgery, wasted medications, demand for GP consultations, A&E attendances, emergency admissions, re-admissions and the amount of time spent in hospital, as well as reducing compensation and litigation costs. Emergency admissions among people with long-term conditions that could be effectively managed in primary care cost the NHS £1.4 billion annually; and more than £1 billion is currently wasted through low adherence to, and the misuse of, prescribed medicines.
Ending the 'silent misdiagnosis' could save the NHS billions of pounds – Correctly diagnosing patients' preferences could save the NHS billions of pounds because well-informed patients choose fewer treatments, and involving people in decisions about their healthcare helps to reduce unwarranted variations in treatment.
Increasing the self-management of long-term conditions can yield significant returns on investment – The management of long-term conditions accounts for 70% of total health spending. In giving rise to the greatest pressure on health resources, it also presents the greatest scope for reducing costs.
Actively engaged patients incur lower costs – Evidence from the United States shows that more active participants in treatment decisions and self-management incur significant lower costs, overall and for different long-term conditions. More actively engaged patients are also less likely to experience a medical error or be readmitted within 30 days of discharge. A study for the Commonwealth Fund found the cost of health care to be 21% higher for the least activated patients than for the most activated.
Current payment schemes provide little incentive to enhance patient experience, including through improved information and support – Yet research shows that information provision increases patients' satisfaction and their positive experiences of healthcare. This will be far more important in the reformed health service.
There are clear links between patient experience, quality and financial health – Evidence from the United States clearly demonstrates a positive association between excellent patient experience and the market performance and financial health of providers, as well as a positive association between quality and financial performance.
Positive patient experience and feedback will attract customers and reassure commissioners – With the introduction of greater competition, choice and transparency into the UK health system, providers are more likely to focus on improving their patients' experience. From a business perspective, this is both a major risk-management issue and a significant opportunity.
To download the Executive Summary please click here

Primary Care: Today and Tomorrow – Improving general practice by working differently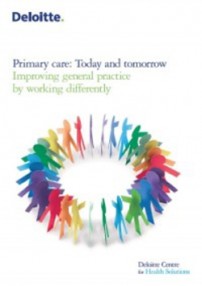 In May 2012, Deloitte published a report looking at capacity and capability of general practice now and in the future.  "Primary Care: Today and Tomorrow", highlights the need for general practice to work differently to cope effectively with the increasing demands it faces, and this is especially important now because demand is set to rise as people are living longer.
According to the Report, general practices need to develop ways of working with patients to help them improve their health rather than simply treating their "episodic illness". Improved information and communications in practices is needed, developing shared decision-making and self care strategies to help educate patients into taking care of their own health.
If people are not equipped with the knowledge to look after their own health and the pattern of consultations remain unchanged, the Report predicts that by 2035 there could be a total of 433 million GP consultations, of which 180 million would be for people aged 65 and over, nearly double the current number.
To download the report please click here
Ernst and Young's 2012 Progressions report provides important information on two key areas of self care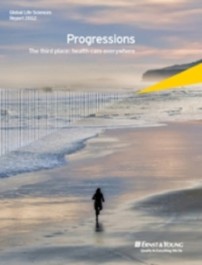 The annual Ernst and Young's Progressions report reviews recent developments and trends in healthcare and the impact of these developments. The 2012 report provides important information on two key areas of self care: The importance of behavioural change and new tools to facilitate behavioural change:
The importance of behavioural change and new tools to facilitate behavioural change
Patients: nudging patient behaviour
Click here to download the report in full
Key outputs from the report include:
Health care costs are becoming unsustainable, in large part due to a chronic disease epidemic fuelled by unhealthy lifestyles, aging populations and increasing standards of living. To bring costs under control and improve health outcomes, patients and other stakeholders of the health care system will need to change their behaviour.
To enable these behavioural changes, the epicentre of the health care system is shifting from the two places in which health care has traditionally been produced, delivered, consumed and paid for – the hospital and the doctor's office – to a third place: the patient.
Patients – who have grown increasingly comfortable with empowering technologies (e.g. smartphone apps, monitors, social media) are taking a more active role in managing their health and are demanding a different model.
Getting people to adopt healthy behaviours represents a tremendous economic opportunity for life science companies and health care systems, but this has been extremely difficult despite patients' best intentions.
Behavioural economics demonstrates that the reason people fail to make behavioural changes is that they have predictable biases that affect decision making – leveraging the science of behavioural economics to understand human biases allows companies to construct incentives and create products/services that are far more likely to succeed.
Everyday Healthcare Study 1997: A Consumer Study of Self-medication in Great Britain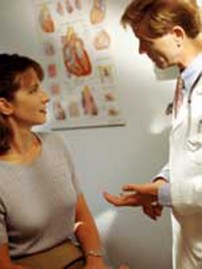 In 1986, PAGB commissioned the British Market Research Bureau to conduct the first national survey of everyday healthcare in Britain. Ten years later, changes in the healthcare environment and market meant that there was a need for the 1986 research to be updated. In 1996/97 the study was repeated using the same methodology. Together these studies show how people in Britain view their health, their sources of advice and information and how they treat minor ailments.
What does the study show?
The Everyday Healthcare Study shows that the British public are sensible and cautious in their use of medicines.
We are not a pill for every ill society.
With the right advice and help people are confident that they can manage minor ailments themselves and they do so.
People value the availability of over the counter medicines.
People find OTC medicines effective and they tend to use the same product each time they experience the same illness.
The doctor is still the most important advisor and health care influence.
Many people are visiting doctors for advice and treatment of ailments that they could manage themselves.
For more information click here
Making the case for the self care of minor ailments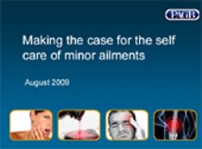 The findings of research commissioned by PAGB and conducted by Kantar Health.
Helping People Help Themselves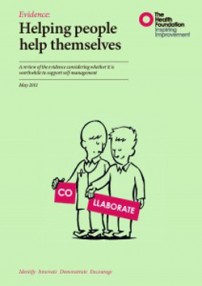 The Health Foundation has produced this literature review to respond to the questions and challenges of clinicians wanting to appraise the benefits of self-management support.
This review of more than 550 pieces of high quality research suggests that it is worthwhile to support self-management, in particular through focusing on behaviour change and supporting self-efficacy.
Towards a Healthier Britain 2010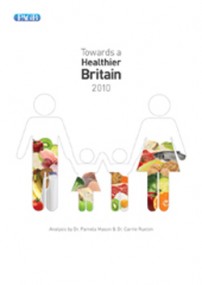 This report, commissioned by PAGB and authored by Dr Pamela Mason and Dr Carrie Ruxton, provides an analysis of the nation's nutritional intake. It is an update of 2008's Towards a Healthier Britain report using the latest scientific evidence from dietary surveys.
The report finds that nutrient intakes have improved very little in the past decade and a substantial number of British adults and children are at risk of nutrient deficiency. It goes on to explore the role of supplementation and suggests ways to improve how nutritional advice is presented to the public.
The Changing Landscape: A multi-country study undertaken for AESGP
The Nielsen Company partnered the Association of the European Self-medication Industry (AESGP) in this global research project. Part of the research followed up on some of the questions from 2008 while the other questions examined the impact of the economic crisis on consumer behaviour concerning self-medication.
These slides have been edited to just include the findings from Europe. However, if you would like to see the full global data please contact Claire Weaver.
Pharmacists' perceptions of POM to P switches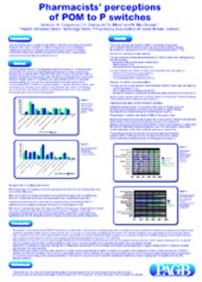 New research surveying pharmacists' perceptions of POM P switches, reveals that the majority of pharmacists believe POM to P switches bring added value to the profession, allowing the provision of quality products to patients and simultaneously empower the pharmacist. The survey, commissioned by PAGB and conducted by Health Attitudes Direct, also found that the main drivers for pharmacists recommending a POM to P switch over existing products were that the product offered a therapeutic advance (90%), belief in the product (70%) and their own experience of using the product (55%).
To download the poster that shows the findings click here


Towards a Healthier Britain: The Potential Role of Food Supplements in Government Policy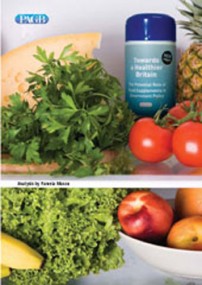 This report, commissioned by PAGB, is a response to the Cabinet Office publication, 'Food Matters: Towards a Strategy for the 21st Century' which sets out the government's vision for food policy and considers the impact of nutrition on the health of the UK's population. The government recognises that people's diets need to change and that if they 'met nutritional guidelines, 70,000 premature deaths could be prevented each year'. But is the nation meeting these dietary recommendations?
In the report, nutrition expert, Dr Pamela Mason, provides an analysis of the nation's nutritional intake and discusses the potential role for food supplements, particularly vitamins and minerals, and identifies the nutritional gap that currently exists.

Minor ailment workload in General Practice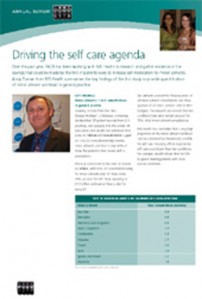 In 2008, PAGB revealed the findings of the first study to provide quantification of minor ailment workload in General Practice.
The survey, commissioned by PAGB and conducted by IMS, found that the treatment of minor ailments accounts for 18-20% of GP workload, incurring a significant cost of around £2 billion a year to the NHS. A huge 57 million consultations are for minor ailments (51.4 million of which are for minor ailments alone), resulting in over an hour a day for every GP and 52 million prescriptions.
Andy Tisman from IMS Health summarises the key findings of the study in an article from PAGB's 2008 Annual Review.
To download the article click here
How to drive growth in self care: A multi-country study undertaken for AESGP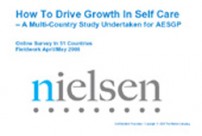 The Nielsen Company partnered the Association of the European Self-medication Industry (AESGP) in this global research project. The objective was to better understand consumer attitudes towards key aspects of self care:
Willingness to self-medicate when feeling the onset of a minor ailment
Barriers to routine self-medication when feeling the onset of a minor ailment
Factors influencing product choice of non-prescription medicines
From what sources are consumers expecting to get information in the future to help them take care of their health and minor ailments
To what extent do consumers agree or disagree with the concept of more prescription medicines being available without doctor involvement
Self Care Aware: Joining Up Self Care in the NHS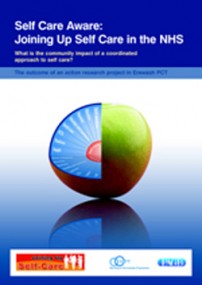 What is the community impact of a coordinated approach to self care? The outcome of an action research project in Erewash PCT.
JUSC is a strategy to improve the interface between primary care and the community. This will ensure that service demand is efficiently managed, actively supporting the individual's own ability to combine self care, when possible, with primary care, when needed.
Joining Up Self Care in Erewash centred on three disease-related modules:
The PCT also made concerted efforts to engage with healthcare professionals, including providing bespoke self care aware consultation training. These activities culminated in the introduction of a GP Local Enhanced Service promoting self care.
The study found an increase in the reduction of risk factors in CHD, confidence levels in managing asthma and mothers' willingness to self treat many children's minor ailments as well as a more positive attitude towards self care among health professionals and PCT managers.
Download the report here:
JUSC Summary Report
JUSC Full Report
JUSC Annexes
JUSC Summary by WiPP (The Working in Partnership Programme)
A Picture of Health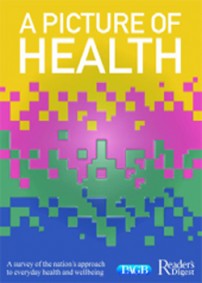 This report summarises a national consumer survey, carried out by independent research organisation NOP World in May 2005, into people's experience of everyday ailments and health conditions – such as colds, headaches, allergies, indigestion and muscle aches – and how they deal with them.
The findings offer a fascinating insight into how we manage our everyday health and, in particular, show our strong preference for looking after ourselves as far as we can.
The study was commissioned jointly by PAGB and Reader's Digest in order to gain an up-to-date, objective picture of how we approach everyday health matters.

To download the summary click here