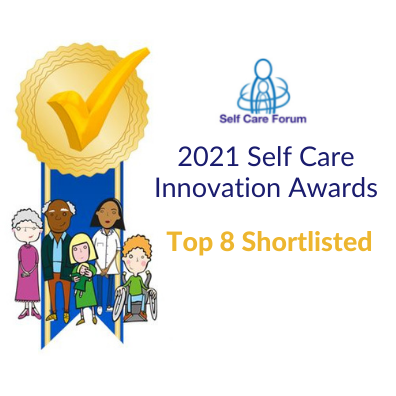 Announcement of Self Care Innovation Winner and Highly Commended
It's the run up to Self Care Week (15-21 November), and we are delighted to announce the winner and highly commended self care innovators, whose work is making a difference to people's lives across the UK, empowering and inspiring people to self care and in doing so, to live their best and healthiest lives.
The Self Care Innovation Awards help to recognise exemplary self care innovation taking place in our communities every day and the Self Care Forum is keen to not only showcase these achievements but to also share best practice so that others can be inspired to replicate such self care excellence.
Below are the top 8 Self Care Innovation Award entries, including the winner and highly commended entries:
Outstanding Winner
Orthopaedic Research UK's (ORUK) Enabling Self-management and Coping with Arthritic Pain using Exercise, ESCAPE-pain is an outstanding programme integrating information, advice and exercise. It helps people understand their problem, dispels erroneous health beliefs, advises them what (not) to do and allows them to experience the benefits of exercise. Led by a trained facilitator (clinician or exercise professional), groups of 8-12 people with chronic knee, hip and/or back pain attend 12 sessions (twice a week for 6 weeks). The programme is also available online making it even more assessible.
Highly Commended
The following 4 entries were highly commended for their inspiring achievements in self care innovation.
Now We're Talking with art. Herefordshire and Worcestershire Health and Care NHS Trust created three local art trails in an innovative project aimed at raising awareness of mental health and signposting to services. More than 200 artists, businesses and community groups were involved.
Now We're Talking with Art – Case Study
Virtual Self Care Week 2020. Baywide Primary Care Network (Torbay, Devon) organised a host of online activities for the local community during Self Care Week in November 2020 as COVID-19 prevented in-person events. People were encouraged to take part in online quizzes, exercise classes and coffee mornings.
Virtual Self Care Week Programme – Case Study
Supporting Sisters. Aspire Learning Support and Wellbeing (Chester-Le-Street) provides in-person and online services to women across the North East of England. Its holistic approach helps women experiencing emotional, social, economic, physical and relationship difficulties.
Supporting Sisters Peer-Led Programme – Case Study
Let's Get Steady. Guildford and Waverley Integrated Care Partnership (NHS Surrey Heartlands Clinical Commissioning Group) runs a face-to-face falls prevention programme offering advice to local residents about how to avoid a fall and stay independent.
Let's Get Steady Falls Prevention Programme – Case Study
Next Best Entries
These 3 entries were also incredibly inspiring and excellent examples of best practise for organisations to learn from:
Keeping Bromley Well! A Self Care Week Initiative Bromley Third Sector Enterprise (BTSE) and Bromley Well sought to bring its borough together online, with Self Care Week the catalyst. Uniting isolated individuals and supporting home-based staff, helping the community to understand the importance of self care, not just for a week but throughout life.
Keeping Bromley Well – A Self Care Week Initiative – Case Study
Pencil Me In was created in 2020, providing creative wellbeing retreats to promote self-care, prevention of mental health problems and to encourage people to pencil themselves in their diary as well as others.
Pencil Me In Wellbeing Retreats – Case Study
Being Virtually Brilliant! by the Workshop Team at Cheshire & Merseyside Cancer Alliance who upskilled health professionals to deliver remote health and wellbeing workshops.
Being Virtually Brilliant – Case Study
For information about the awards contact selfcare@selfcareforum.org
Huge thanks goes to ISF for its continued support and sponsorship of the Self Care Innovation Awards.