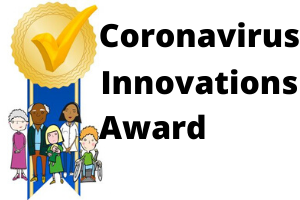 The Self Care Coronavirus Innovation Awards celebrate the wonderfully inspiring and empowering work taking place in our communities across the UK, work that is making a difference to people's lives at a time when they need it most.
We received 43  diverse entries, every one of them worthy winners.  Every single one holds strands of learning and best practice which other places can emulate and use to encourage their populations to take affirmative action on self care.
Which is why we are making the 8 top applications available as case studies so that lessons can be learnt and more people in the population can benefit.  Below are the top 8 shortlisted award entries, including the winner and four highly commended:
Winner
Sutton Women's Centre shone through for its incredible empowerment of vulnerable families during lockdown. As well as providing a safe haven, the Centre's Freedom Programme gives women who have experienced, or are experiencing domestic abuse vital tools to reach their full potential and lift themselves out of their challenging situations.
4 Highly commended
Fresh Minds Education and Northern Health and Social Care Trust were recognised because of their "workshop in a box" developed to empower young people aged 14 and over, a group whose needs are often overlooked.  The workshop was based around five steps to wellbeing and delivered to vulnerable young people. Judges also felt that because young people co-created the initiative, it made it all the more powerful.
Age UK Lewisham and Southwark's Safe and Independent Living team initiative was highly commended because it rapidly mobilised community support for its diverse elderly population during the lockdown. Helping 2000 vulnerable and hard to reach people aged 68 and over with prescription collections, food shopping, telephone befriending and by circulating specially designed, chair-based exercise activity packs to help keep people moving.
Cardiac Rehabilitation Team, Addenbrookes Hospital, Cambridge University Hospital NHS Foundation Trust, Eastern Academic Health Sciences Network and Aseptika Limited's use of technology to support people with cardiac problems during the lockdown led to the initiative being highly commended. Their cardiac rehabilitation services were converted from face-to-face to a technologically enhanced online service monitoring patient's physical signs at home via an app which also included a process for encouraging patient activation.
Kingston GPs and The Sound Doctor impressed judges by delivering self care support at scale.  It introduced a CCG-wide suite of empowering self care videos (Sound Doctor) for patients during lockdown, and included a comprehensive new Qismet accredited online diabetes course.
Next Best Entries
Buckinghamshire Clinical Commissioning Group was one of the top eight entries because of its support and empowerment of vulnerable self isolating and shielding patients to self care. Quickly adapting services from face-to-face to online access with excellent use of technology to continue with healthy lifestyle sessions.
Wharfedale, Airedale & Craven GP Alliance also narrowly missed out on being highly commended with its wide comprehensive COVID19 response which included webinars, podcasts and videos to encourage good self care. Medical students were also tasked with providing welfare calls for the over 70s. There was clearly wide collaboration with local partners supporting 73000 patients.
Community Development & Health Network (CDHN) and Mid & East Antrim Agewell Partnership (MEAAP) was another of the top eight. The entry stood out because of its collaboration with community groups who mobilised quickly to organise a prescription delivery service with community pharmacists. The project covered more than half of community pharmacists in Northern Ireland.
For more information contact selfcare@selfcareforum.org