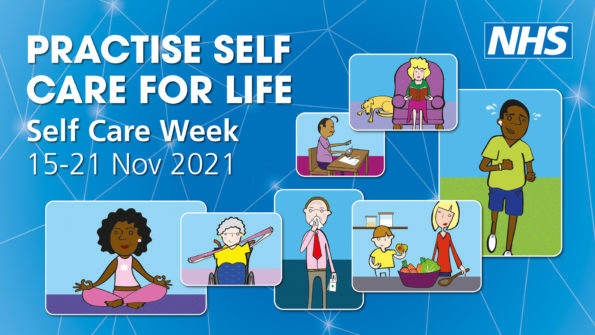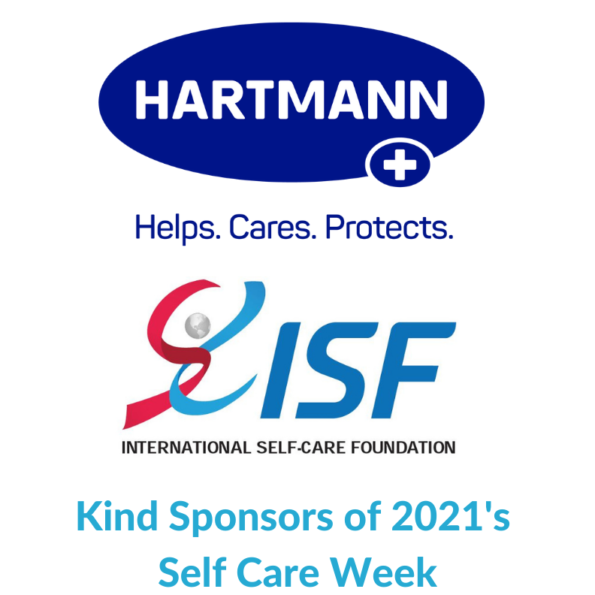 Would you like to be a Self Care Week corporate sponsor?
Excellent corporate sponsorship opportunities are available. If you would like to collaborate in promoting Self Care Week or other health related awareness events do get in touch via email selfcare@selfcareforum.org. We would love to hear from you.  More details, including our sponsorship menus, are available here. 
Donations
We hope you find our free resources useful. To continue with our work of offering organisation support to implement self care at the local level, we are fundraising. Please help if you can. A suggested donation of £100 will go a long way to helping us continue to further the reach of self care. For more details go to our "ways to help" page. 
Subscribe to the Self Care Forum e-newsletter for updates, resources, ideas and news about the latest self care activities. 
Self Care Week
15 – 21 November 2021
Self Care Week is the UK-wide annual awareness week that focuses on embedding support for self care across communities, families and generations.
Practise Self Care for Life is the theme and organisations are being encouraged to use Self Care Week as a hook to help people "practise" self care for a healthier, happier life. 
More details can be found here. 
Order Your Self Care Week Badge Now
Support Self Care Week by wearing, or sharing, our little badges.  More details on how to order here. 
Need Some Inspiration for Activities? 
Below is a range of booklets with suggestions and ideas for organisations to #GetInvolved in promoting Self Care Week:
Website Text and Social Media Assets
Below are a number of tweets and images for use during Self Care Week.  These can be used on other social media platforms but please remember to include the Self Care Forum in your tweets and when on FB and LinkedIn.  Also, text is available to copy and paste straight to your website, or newsletters to explain what it is for. Please do not use these social media assets prior to Self Care Week – 15 November.
If you want to hold a twitterchat during the Week do get in touch for information about how to do this. selfcare@selfcareforum.org 
Don't miss out on anything Self Care Week or self care related, subscribe to our newsletter for updates into your inbox. 
8 Point Plan
To help with your Self Care Week activities, we have produced a helpful framework so that you get the best out of your initiative and so help more people to take better care of their health and well being.  Here is our 8 Point Plan.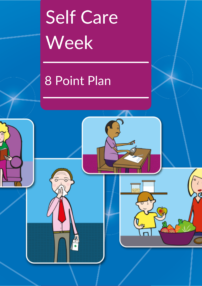 Comms Doc
Here is our comms doc with key messages to help with your promotion of your Self Care Week initiative.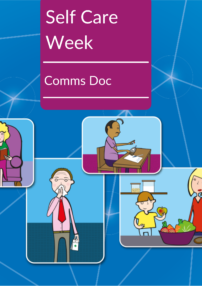 Best Self Care Week Practice
Further help is available from organisations that have previously implemented Self Care Week initiatives. Go to the best practice page for Self Care Week case studies.
The following materials are available to download:
Web buttons
Below are low res images that are ideal for your Self Care Week website branding. 
Click on the links to download, then right-click to 'save image as…':

We aim to produce material that is freely available to all but ask that if you can afford to donate a small amount to our charity of around £50-£100 this would make a huge difference.
Self Care Week poster
A Self Care Week A4 Poster is available and can be printed for use as part of your activities. (Pdf version).
This Self Care Week A4 poster has space to signpost to local events or alternative health services.
Click on the link to download.
For an EPS version that can be opened using Illustrator please contact selfcare@selfcareforum.org
Self Care Week Pop Up Banner (with date and theme)
If you are holding events as part of your Self Care Week activities, why not use banners to attract attention?
Below is the artwork in pdf format with appropriate dimensions.
Pop Up Banner (vertical)
For EPS versions that can be opened using Illustrator please contact selfcare@selfcareforum.org
Self Care Week Pop Up Banner (without date)
We understand that sometimes you want to create Self Care Week banners for events that can be used each year and so we have produced artwork for Self Care Week / Self Care for Life without dates: 
Horizontal Banner (5mx2m)
Television screen
Here is an image designed especially for a television screen which can be used on waiting room information screens. 
Click on the link to download, then right-click to 'save image as…':
Press Releases
Ideally, you want to reach as many people as possible with your Self Care Week messages and it can be helpful to approach your local media (press and broadcast) with news about your activities. You might like to do this by sending a press release including a quote from a local pharmacist, nurse, GP,  councillor, mayor, MP or another personality in the local area.  If you would like a quote from our Self Care Forum chair, or president, do get in touch. 
Below are resources that can be used as part of your Self Care Week activities or outside Self Care Week.  
Poster: Can the Pharmacist help with your symptoms?
Here is a poster signposting to the pharmacist for twelve common ailments that people often visit the GP with.  Corresponding fact sheets are also available for each of the 12 ailments and can be used during interactions to support people to self care.
Leaflets, posters and guides
Here is a list of leaflets and posters available to support self care that can be displayed or handed out during Self Care Week.
Unfortunately these are not available as printed copies, however you can download and print off yourself.  Or, you may wish to take some of the content and produce your own resources. 
Other downloadable leaflets:
Helpful website links: