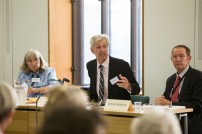 On 18th July 2013 the All Party Parliamentary Group on Primary Care and Public Health held a Summer Reception to launch their new inquiry report examining the future sustainability of the NHS.
At the Reception were a number of expert panellists adding their views on how we can support people to live healthily for longer.  The health minister Earl Howe also addressed the meeting and, while he said there has been tremendous progress in health care in the last 65 years, there are still challenging times ahead.
There was agreement amongst the panel members, who were from the King's Fund, Public Health England, NHS England and Bexley CCG that a public debate about the costs of the health service is necessary.
For years politicians, medical and nursing professions, economists and think tanks have all been talking amongst themselves about the problems we are facing in the NHS as a result of increasing demand, an expanding an ageing population and financial challenges.  And now it's time to include patients and the public, and those working in the NHS in this important debate that affects us all.  This was one recommendation made by the APPG and coincides with a recent Government announcement to have "an open and honest debate" about the future shape of the NHS.
The full inquiry report is available to download from the APPG website