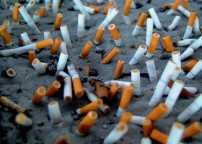 Landmark guidance to reduce tobacco-related harm for people who don't feel able to stop smoking in one step has been published today by the National Institute for Health and Care Excellence (Wednesday 5 June).
The NICE public health guidance is the first in the world to recommend that licensed nicotine-containing products can be used to help people to reduce the amount they smoke, especially those who are highly dependent on nicotine. This includes people who may not be able to stop smoking in one go, those who want to stop smoking without necessarily giving up nicotine, and those who might not be ready to stop but want to reduce the amount they smoke.
The best way to reduce the harm from smoking is to stop completely and the best chance of doing this is still to quit in one step. However, this guidance recognises that for people who've been unable to stop using this standard method, the approaches recommended in this new guidance can help. It could also encourage more people to consider reducing how much they smoke, with the support of licensed nicotine-containing products (such as nicotine replacement therapy (NRT) patches and gum), and advice from stop smoking services, both of which are proven to be effective.
Full details and the downloadable guidance can be found on the NICE website