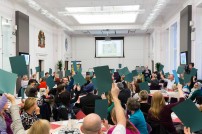 Self Care Week 2014 was launched by Earl Howe, Parliamentary Under-Secretary of State for Quality, at yesterday's Annual Self Care Conference, 'Can self care plug the £30 billion NHS gap?', organised by the Self Care Forum and PAGB.  Earl Howe said: "Going further on self care is absolutely vital for the sustainability of the NHS and better for patients… it leads to improved patient outcomes, fewer unnecessary consultations and better use of resources."  He spoke about the two-way partnership between patients and healthcare professionals to provide patients with the information, tools, support and care to help patients get well and stay well.
Delegates at the conference heard about the importance of improving health literacy and the need to teach health education in schools.  "You wouldn't dream about not teaching numeracy and literacy so why is health literacy not taught?" asked Dr Selwyn Hodge, Self Care Forum Board member and former Chair of the Royal Society for Public Health.  With a £30 billion deficit forecast by 2020, encouraging healthy lifestyle choices and appropriate use of the NHS amongst young people is vital for addressing long-term demand management.  The audience voted unanimously in favour of such education being included on the national curriculum.
Self Care Forum Board member, Dr Pete Smith launched the Self Care Forum's Manifesto, 'My Health, My Life' which gives positive and practical steps to achieving the personal engagement needed to ensure the future success of the NHS.  Dr Smith explained that the recommendations made in the Manifesto would lead to "Healthier people who are experts at every stage in their lives", adding "How can you make a choice when you don't have the information to start with?"
"Lifelong learning, empowerment, information and local and national campaigns are the four pillars to literate, engaged and empowered individuals", noted Dr Smith.
Also speaking at the conference, Rob Webster, Chief Executive of the NHS Confederation agreed that the NHS needs to do things differently to cope with escalating demand.  He stressed the importance of "re-shaping care around the needs, aspirations and capabilities of people", embracing patients as partners as well as making the most of technology.  Describing the NHS as "a guest in other people's lives", he added that "We should see people as assets, not issues, and our outcomes should be theirs."
Dr William Bird's closing message was that health professionals need to listen to patients and tailor advice to their own particular circumstances if they are to be motivated into living more healthily.  "Don't isolate physical activity" he said as it is often already part of people's everyday lives but not something that they see as 'exercise'.  Encouraging people to do activities that are fun and social, such as community walking groups and 'Beat the Street' where children participate in a game to win the competition by collecting points on their walks, can help "change the culture of inactivity".
Self Care Week is the annual national awareness week that focuses on embedding support for self care across communities, families and generations.  This year it takes place from 17th-23rd November 2014 with the theme 'Self Care for Life – Be healthy this winter'.
Further information can be found on the Self Care Week page