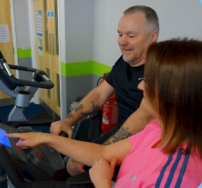 Social prescribing, which is sometimes known as community referral, is, according to the King's Fund, a means of enabling GPs, nurses and other primary care professionals to refer people to a range of local, non-clinical services.
It's aim is to support individuals to take greater control of their own health and seeks to address people's needs in a holistic way.
Increasingly, primary care organisations are seeing the benefits of incorporating social prescribing approaches as a means of supporting people's health and wellbeing.
In 2010, the Self Care Forum produced a case study highlighting the work by Bromley-by-Bow Health Centre in East London.  One of the earliest and best-known social prescribing projects, staff there work with patients, often over several sessions, to help them get involved in more than 30 local services ranging from swimming lessons to legal advice and here is a case study of their work.
At the Annual Self Care Conference in 2017, Professor Chris Drinkwater presented the excellent work taking place in the North of England led by Ways to Wellness, a charitable foundation in Newcastle West.  Their social prescribing project  provides local people with long term condition with individual link workers to help them identify and work to overcome their barriers to managing their health.
Further details about the Ways to Wellness project can be found here.