Save our NHS: Time for Action on Self Care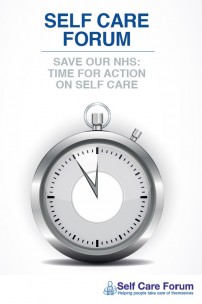 In order to save the NHS for future generations we have launched a resource pack to help general practitioners and Commissioners adopt a cohesive self care strategy. The document, entitled Save our NHS: Time for Action on Self Care is a mandate which provides a self care action plan for the NHS, supplemented with a 'How to' guide .
The Save our NHS: Time for Action on Self Care mandate advocates a whole systems approach across the NHS to empower patients to self care in a supportive environment. To enable this to happen in practice, a six-point blueprint has been developed.
Recognise that supporting self care can create capacity in general practice for longer consultations
For all healthcare professionals to support self care behaviour at every contact
Adopt a self care aware conversation in all consultations
Implement the NHS Constitution at practice level to underpin support for self care
Support Patient Participation Groups to implement the National Association of Patient Participation programme supporting self care for the practice population
Encourage healthcare professionals to enable patients to self care by developing national and local incentive schemes.
The mandate is available to download: Mandate (double-page version) or Mandate (single page version)