Subscribe to the Self Care Forum e-newsletter for updates, resources, ideas and news about the latest self care activities. 
Self Care Week
16 – 22 November 2020 Resources Coming Soon
Self Care Week is an annual national awareness week that focuses on embedding support for self care across communities, families and generations.
Live Self Care for Life is the strap line and organisations are being encouraged to use Self Care Week as a hook to help people "live" self care for a healthier, happier life. 
Before you start with your Self Care Week strategy, it might be useful to take a look at our Eight Point Plan document which aims to provide a framework to help you plan the type of awareness week that best suits your needs.
Further help is available from organisations that have previously implemented Self Care Week initiatives, please see "Successfully Delivering Self Care Week: Case Studies and Practical Advice." Or go to the best practice page for Self Care Week case studies.
A communications document is available with helpful tips and ideas.
A £500 prize is available for the winner of the best Self Care Week initiative.  Award criteria are available on request.
Instructions for holding a Self Care Week Twitter Chat
If you would like to host a Self Care Week Twitter chat this year then here are instructions on how to do that.
The following materials are available to download below:
Web buttons
Click on the links to download, then right-click to 'save image as…':
Web button
Web button (large)
Web banner
Web banner (pdf)
For EPS versions that can be opened using Illustrator etc. please contact selfcare@selfcareforum.org
Self Care Week poster
Self Care Week Poster – pdf version
Click on the link or the image to download:
Self Care Week Pop Up Banner (with date and theme)
If you are holding events as part of your Self Care Week activities, why not use banners to attract attention?
Here is the artwork in pdf format with appropriate dimensions (remember the banner has the 2020 date included).
Self Care Week Pop Up Banner (without date)
Below is artwork for generic pop up banners:
Horizontal Banner (5mx2m)
Television screen
For use on waiting room information screens.
Click on the image or the link to download, then right-click to 'save image as…':
Television screen
Press Releases
It is advised to contact your local media with details on your activities for Self Care Week and below are three template press releases or you to use.
Press_Release_Sample_Prevention
Poster: Can the Pharmacist help with your symptoms?
Here is a poster signposting to the pharmacist for twelve common ailments that people often visit the GP with.  Corresponding fact sheets are also available for each of the 12 ailments and can be used during interactions to support people to self care.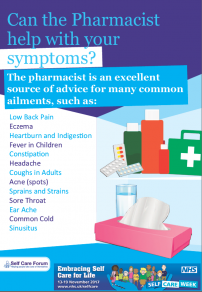 Leaflet: When will I feel better?
A helpful guide on how long you can expect the symptoms of cough, colds, sore throat and nasal congestion to last, what you can do to get better and the warning signs to look out for which mean you may need to seek professional help.
The leaflet also explains that antibiotics are not an effective treatment for winter symptoms such as cough, cold, sore throat, flu or nasal congestion.
It was produced by PAGB for the NHS Stay Well This Winter campaign.
It can be downloaded below:
When will I feel better? (print version – If you are printing this leaflet on both sides of paper, you may need to select "Flip on short edge" in your printer settings)
Treat Yourself Better poster
This poster has been produced for the 'Treat Yourself Better with Pharmacist Advice' campaign. It can be used to remind patients that antibiotics do not help common winter ailments and how long they can expect the symptoms to last for.  It promotes the pharmacist as the first port of call for advice on winter ailments.
Click here to download:
Treat Yourself Better with Pharmacist Advice GP Poster
Leaflets, posters and guides
Here is a list of leaflets and posters available to support self care that can be displayed or handed out during Self Care Week.
Unfortunately these are not available as printed copies, however you can download and print off yourself.
Other downloadable leaflets:
Helpful website links: