Blog by Partners: International Self Care Foundation (ISF)
Do you want to live a healthier life by tracking all aspects of your healthcare? – If so, then the Health Storylines app is a perfect tool for you!
Manage ALL aspects of your health with your very own personal, digital health companion!
With this self-care health and wellness app, you can take a significant portion of your self-care back into your own hands. You won't have to depend on others for monitoring and keeping you on track with your health-related issues! Track and manage medication, appointments, symptoms, and more.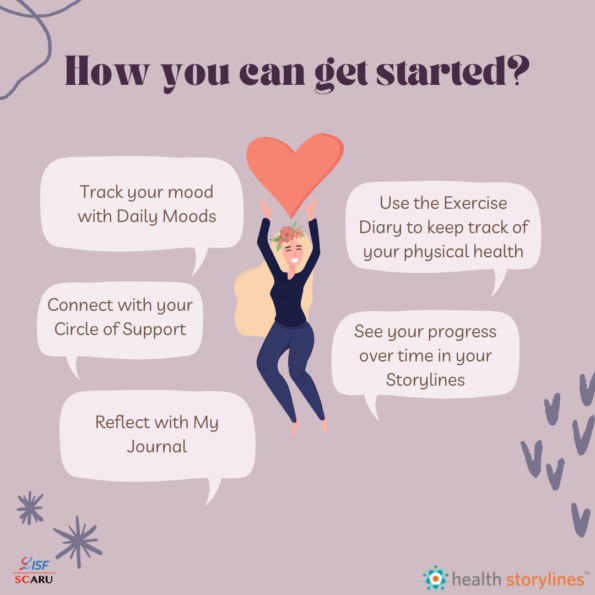 *** KEY FEATURES ***
KEEP TRACK OF YOU
Personalise your Health Storylines experience by adding or removing tools from your homepage! With over 70+ tools, Health Storylines is your one-stop shop to keep track of all things health and self-care.
LEARN with
RESOURCE LIBRARY – Learn about the 7 pillars of self-care
MY STORYLINES – Get to know your habits and visualise your tracked data over time on your personalized dashboard. Download reports for your files or shows them to your doctor for better insights into your daily health habits.
TRACK with
Medication Tracker – get reminded when it's time to take your meds!
Daily Moods – easily keep track of your mood.
SYMPTOM TRACKER – never be doubted again and track your symptoms over time.
DAILY VITALS – track your height, weight, pulse, oxygen saturation, and more!
PAIN TRACKER – keep an eye on your pain levels over time.
ROUTINE BUILDER – start forming healthy habits with this tool by building your daily routine.
FATIGUE MANAGER – Track and learn how fatigue impacts you and the possible causes of your fatigue.
Other tools such as diet, exercise, & appointment tools
REFLECT with
MY JOURNAL – respond to prompts or write anything you want! Your virtual journal is your safe space.
POSITIVE THOUGHTS DIARY – give your thoughts a positive spin.
TREATMENT REFLECTION – reflect on the treatments that help or bother you to share with your doctor.
FEEL BETTER with
HEALTHY DOSES – get a dose of gratitude, love, optimism and more with inspirational quotes and feel-good pictures to brighten your day and keep you going!
JOYFUL MOMENTS – capture moments that make you smile and keep them in this tool.
MINDFULNESS LEARNING – watch and learn about being mindful.
Whether you are looking for a self-care tracker app for either physical or mental health, this health and wellness app can be an excellent tool for you. It works as a pain tracker, health journal, emotion or mood tracker, anxiety tracker, symptom checker and tracker, and more. You can track and keep records of all your health conditions and use them for therapies or consultations with your therapists or doctors.
Our all-in-one tool allows you to track your vitals, medications, appointments, symptoms and moods in an extremely organised and simple manner. No need to download multiple apps for each medical condition because Health Storylines offers all these tools in one place.